New infinitum S2/S5 Control Box extremely popular with Telecom customers
The superior capabilities include:
Modular, plug & play, upgradable anywhere, anytime
Hybrid solution with capability to control multiple energy sources with only one unit (less components – more reliability)
Includes TSS Σ-Ahr MPPT controller provided with two independent array inputs
Passive cooling / no ventilators, up to 85°C enclosure temperature
Two outputs possible (essential and non-essential loads)
Four different remote monitoring solutions available
Old and new hybrid systems and old and new batteries can be combined, due to the TSS smart diodes, without compromising on reliability & lifetime
Dual & triple system set-up, resulting in continuous 24/7 uptime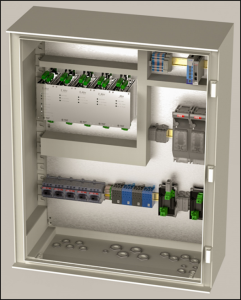 With the TSS infinitum control box and the TSS infinitum TCO software tool various diesel hybrid and solar only solutions can be provided. In below table we show the various cost and CO2 reductions you can achieve.
The TCO calculation TSS provide is taking into account the cost for maintenance and fuel. Transport of diesel and maintenance crew is not taking into account as this is depending on the location where the system will be installed. Each location requires a different solution resulting in a project specific TCO as shown right side.